Blame Largo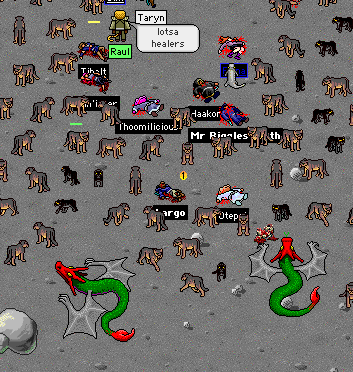 Largo sent the following report to TMN:
It started as a simple joke. Nothing more, nothing less.
A few of us were at Kitty Beach, living it up, throwing paint, and coining. After a few small spawns, Pun'isher prayed to the gods for a spawn of 100 Artak Cougars jokingly. We soon learned that ye should never joke with the gods.
100-150 Artak Cougars were dealt with relative ease by the group (mostly Super Chicken), and some reinforcements called in.
But that weren't the end of it, and I'm glad of that.
Soon we felt the presence of the gods asking if "we were ready for round two." I of course, piped up with a hearty "YES!"
The gods proceeded to summon hundreds upon hundreds of Artak Cougars. And I do mean hundreds. Between all the spawns, there were at least 500 Artaks, Summer Artaks, and Island Panthers.
During this lovely match, I proposed to the gods a perfect continuation. Drakes, of course!
The gods seemed to appreciate my affability, and brought a few drakes in. These were dealt with relative ease as well. Of course, not everyone heard me ask for more, and many blamed it on Pun'isher. The gods are many things, but unfair is not one of them. They spoke in their mighty voices the words, "Blame Largo!"
Gotta love those guys.
Anyway, I got yelled at a little, and some more Artaks came. People came, and people went. But nearly every citizen that wasn't studying showed up at one point.
'Tis a good thing to feel the favor of the gods, even if it is only for a while.
Super Chicken working hard
"Teach them well!"
"Want to go again?"


-Largo
Posted by Para at September 05, 2005 09:23 PM