New Leader of Puddleby Navy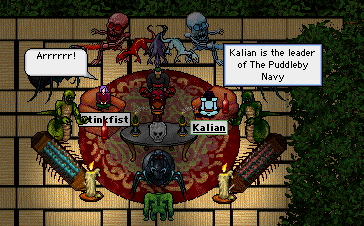 Stinkfist sent the following announcement to TMN:
Arrr tha reign of terror of tha Puddleby Navy under tha leadership of Captain Stinkfist has ended! Tha new reign of terror under tha new Admiral Kalian has begun! He has served tha Pirate King well as first mate and should do well leading tha Navy. All hail yer new defender of town . . . I SAIDS ALL HAIL! DO IT ER BE KEELHAULED!
Posted by Para at November 27, 2005 03:36 AM