Bears Love Honey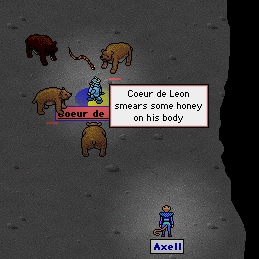 Axell sent the following report to TMN:
Hello Para :-)
Today, I had a great hunt with my old friend Coeur de Leon in the bear caves. Unfortunately, we didn't find Cinderella . . . only some Chestnut bears. As you can see, DFU is still alive!
Remember our motto: "Friends don't let friends fall; use a designated fallen."
-Axell
Posted by Para at December 08, 2005 07:43 PM