Farewell from Samwise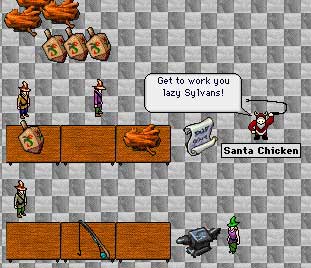 Samwise has left the world of Clan Lord. He donated the majority of his things to Santa Chicken in hopes that this would be one of the best Bawkmas ever! TMN received the following personal goodbye announcement from Samwise:
Hullo, hullo! Followed by a sad farewell. I will miss everything about the town of Puddleby, but it is time that I set sail for faraway lands. Funny . . . It will be odd starting somewhere else when never having had a profession even here. I wonder if they can use a really good self-healer wherever my boat ends up landing. Gah . . . that makes me wish I had stayed here and helped out Troilus. Anyhow, I am rambling. I donated the majority of my clothing and items toward Puddleby having the best Bawkmas ever, so it had better happen! During the festivities, I only make one wish for everyone:
Drink as much as you can fill!
Drink to the Ripture Wars, and those who lived through such horrible times. Drink to the introduction of higher-circle tests! Drink to the times we raided the Orga Camp, or the many hours in Noids! Drink to Blue and to Pixi; to Vagile and Chum! Drink in remembrance of those who have left, and drink even more to those who are still with you! Drink to the guilds of old, and still more for the introduction of the new! And when you have run out of things to drink for . . . remember me, Samwise, who traveled across the lands, through the unknown and never accepted an actual profession other than perhaps that of the Troilus teachings, yet always carried a book in my left hand and my ocarina in my pouch.
Well, the winds are right, and the tide seems correct. It is time I finish this note and continue my journey wherever it may end. Goodbye Puddleby . . . I will miss you.
Signed,
-Samwise
(Unfortunately, Samwise did not include a picture of himself, so I had to use this stock image of Santa Chicken from the TMN archives. -Editor)
Posted by Para at December 14, 2005 09:02 PM