New Year: 561

Borkiron sent the following announcement to TMN:
Hiya Para,
It's the new year 561 in Puddleby, which I didn't even notice had come, but Revelor reminded me and others about it (thanks, Rev). As far as I know, there was no celebration, which was a pity. It's a shame that people generally don't keep track of Puddleby years passing.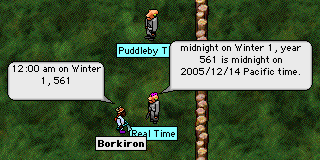 Anyway, happy new year to everyone, and maybe we can have a belated celebration soon anyway?
-Borkiron
Posted by Para at December 14, 2005 11:27 PM