Chaos Storm #422 Delayed for Frivolous Friday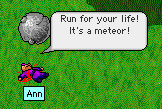 AnnGM sent the following announcement to TMN:
The v422 update has been delayed until Friday, December 30. It will be a Frivolous Friday (like a Wild Wednesday), during which nothing will count for a couple of hours. I'm not sure exactly when the frivolity will begin, but I'm aiming for around 4 PM PST. You'll know when you see the announcement in the game.
-Ann
Posted by Para at December 24, 2005 09:56 PM