Sometimes You Get the Flower, Sometimes the Flower Gets You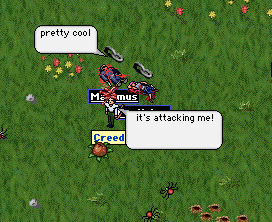 Creed sent the following report to TMN:
Hail Para,
I have a couple of horticultural questions for the Puddleby community.
While I'm an expert at farming regular zu, I don't know a lot about some of the other flora of our fair island. For example, I was with a group on Gungla Island recently (OK, that's not our fair island), and we ran across a flower that actually seemed to attack us. I managed to make a sketch (see above), but I couldn't quite capture its fierce aspect as it reached out long tendrils or petals toward me to attack.
I would also like to ask about ku flowers. Connie Crete showed me one in north field the other day that she said was just sprouting (see below).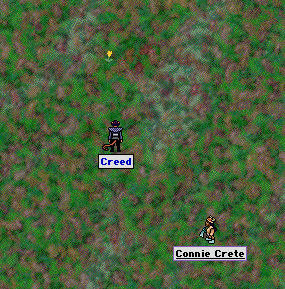 We watched it for quite a while and witnessed no growth or change. I could hardly tell it apart from a yellow poppy, actually. Can anyone comment on what to look for and how to harvest or cultivate a ku flower in the future?
Thanks!
Creed.
Posted by Para at April 10, 2006 10:43 PM