Creed and the Pony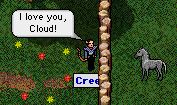 Creed sent the following report to TMN:
Hail Para,
Something very exciting happened to me recently. I was sitting in town, not doing much, when out of nowhere, a beautiful grey pony appeared from the vicinity of the temple. He walked into town and onto the grass in front of the free library. I immediately approached him, as I have a great love for ponies and horses of all sizes. I tried to pet him, and to my delight, he seemed very friendly!
I have written all about this encounter on my scroll at http://www.hieran.com/creed/, along with many sketches. I hope other exiles will visit and read about this wonderful pony. I have been told that this type of thing has happened before, and I hope the pony/ies will return again one day. If they do, I hope they are treated with kindness!
Cheers,
-Creed
Posted by Para at August 13, 2006 12:24 PM