Orga Appears in Temple from Purgatory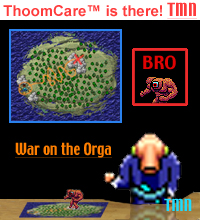 Wangah Rah sent the following report to TMN:
H'loi-
Disturbing news. Recently, as I was meditating by the altar, a lone small green orga appeared, a bit low on health. It was visibly confused, and proceeded to wander around a few moments, occasionally touching the altar. Soon after, it seemed to get its bearings and became hostile as usual. It may be quite problematic if orga appear in the Temple from Purgatory, as this one appeared to do. If it continues to happen, perhaps they will emerge in a dazed state initially, and then will need to be quickly eliminated. Be on guard, and please continue to inform exiles of important happenings.
On a related note, I've recently begun constructing a small laboratory to study the orga in, and would appreciate donations of orga trophies, especially those of a newer variety. Tanki!

On behalf of Team Two-Eyes,
-Wangah Rah
Posted by Para at August 24, 2006 09:23 PM