Grand Theft Snail; Possible Thoomicide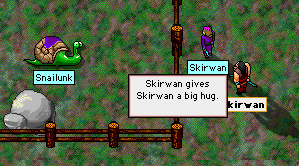 Skirwan sent the following report to TMN:
It is with a heavy heart that I must report the apparent disappearance of the female Thoom Skirwan and the potential associated snailnapping of Snailunk.
A suspicious character calling himself "Gullfaxi", which may or may not be his real name, has appeared at the recently-opened petting zoo on Phineas' Island claiming to have purchased Snailunk from Skirwan.
Those close to Skirwan, myself included, agree that she would never willingly part with Snailunk. That, combined with the fact that she has mysteriously vanished (there are no reliable reports of anyone seeing her for nearly thirty zodiacs) leads inevitably to a reasonable suspicion of foul play. At present, the Puddleby Police Department's Grammatical Enforcement Unit is treating this as a potential Thoomicide and grand theft snail. Investigations are ongoing.
Attached please find a file image of the missing Skirwan, as well as a recent image of Gullfaxi, the mysterious stranger that the Puddleby Police Department's Grammatical Enforcement Unit considers a top suspect. The PPD GEU is offering a reward of one free transferable grammatical infraction in exchange for information leading to the safe recovery of Skirwan.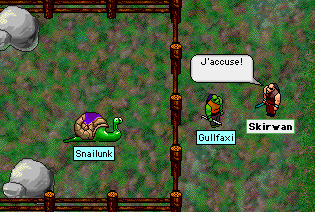 Posted by Para at November 24, 2006 11:18 AM