Rincewind Gets Stone; Orga Get Revenge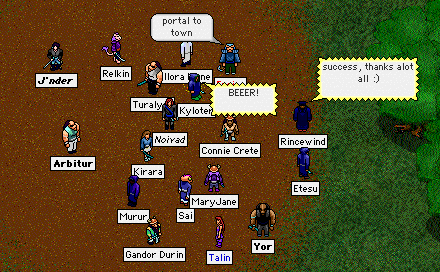 Yor sent the following report to TMN:
A good group (pictured) gathered for the most recent FMOCR. Before long, we reached the Orga Magician and dispatched him. Rincewind then successfully acquired a strange stone. But the Orga would get the last laugh. On our way home we were ambushed by a massive Orga force in Orga Camp One. There was an especially large amount of Large Death Vermine. The entire group was quickly taken out. Soon after the massacre, we heard news over the sunstone network of Orga all through Tanglewood, East Field, and even parts of town! Retribution for our theft of the strange stone, it would seem. After several hours of heavy fighting, the Orga were vanquished, and what remained of our group was rescued. Be aware of this Orga tactic for future FMOCRs!
-Yor
Posted by Para at November 26, 2006 09:31 AM