Potions and Prototypes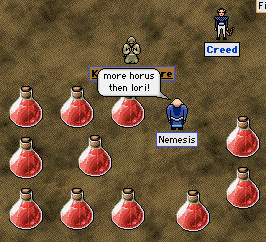 Creed sent the following report to TMN:
Hail Para!
I thought I would share with your readers a couple of strange happenings in Town Center recently.
I came into Town Center to find Nemesis in a bit of a boastful mood. Whether 11 RHSes really gives him more Horus than Lorikeet remains to be proven!
On another occasion, something very strange happened in Town Center. MaryJane was present, and bolts of lightning were shooting from her, causing a number of exiles to fall and be perilously near death. I was unable to find out whether MaryJane was doing this on purpose or whether the gods were using her somehow. Any insight on this from other exiles who were there would be appreciated! I should also mention that several barrels of beer were involved.
It was all in good fun, though, because even the exiles who seemed to be PND were actually raised easily by any healer. And, I was surprised to see—when it was my turn to fall—that I was given the message that I had fallen to an ubergossbloodaxe-prototype! Connie Crete had fallen nearby, but when she was raised, she found she had the ubergossbloodaxe-prototype in her possession. I am anxious to hear more from Ms. Crete about her evaluation of this new weapon.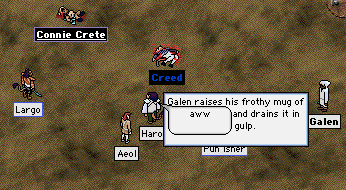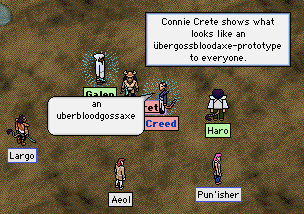 Cheers,
-Creed

Posted by Para at January 20, 2007 12:49 PM