Ethereal Disaster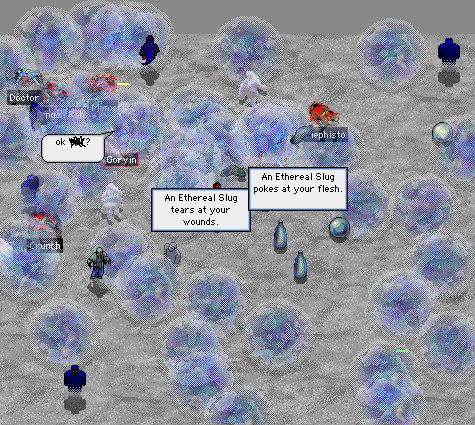 Kani sent the following report to TMN:
Paramedic,
Some time before the events depicted in this picture, Tenebrion's spirit was sensed drifting away in the eighth sphere of the Ethereal Plane, having fallen to an ethereal cloud. Around the same time, a major split in the planes was sensed on Tenebrion's Island, which was soon observed to fill with all manner of ethereal and undine beast, punctuated by a host of Greater Deaths.
Some of these unwelcome visitors still remain, though many were sent back whence they came by a hardy taskforce of exiles.
A group then gathered to rescue Tenebrion, but found their progress thwarted by gale-force ethereal flow and more clouds than any exile might hope to see in a single place. It is not yet known what manner of disturbance instigated this tempest.
-Kani
Posted by Para at March 03, 2007 08:57 PM