Clan Destine Reunites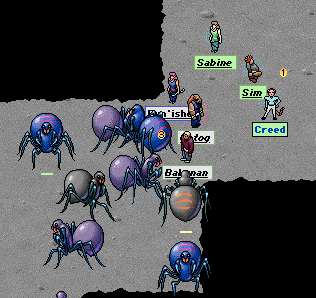 Creed sent the following report to TMN:
Hail Para!
I'd like to report the exciting news that Clan Destine has reunited and reactivated. Several members have been on extended study trips, but some were able to come out of the library and attend a formal Clan Destine hunt on Sombdi (last night OOC). We invited Pun'isher along to fill out our fighter strength, and with her help we made short work of Noids, the plains, pods, and the new pods cave.
We then proceeded to MI, where with Kirara's assistance, we attempted to help Pun'isher get lasties on Valley Cougars until it was time for everyone to go. (I say attempted, as that effort didn't go quite as well as the rest of the hunt! :-) )
It was great fun to hunt again with my clanmates, and we also provided a good deal of clan expy to one another! Now we only hope that we can dig Cyan, Sian and/or Bir Guzzyl out of their books and have a full reunion one of these days.
We were never reunited!
-Creed
Posted by Para at March 03, 2007 09:13 PM