Hunt at Deathtrap Noids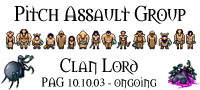 The following message may contain spoilers. If you don't want to read possible spoilers, please do not read the information below.
Fundin sent the following report to TMN:
Last week's PAG trip was unable to hit the usual haunts due to the lack of a skilled porting mystic (and the US timezone change messing things up) so I decided to have a mini hunt at DTN. We knew there were 4 snells as Yor had led many 'mini hunts' there before, and I wanted to finish my Crimson Noid training, so we headed out.
An uneventful trip suddenly became much more interesting and we hit the 4th snell. Expecting nothing but the usual dead end, we cleared the area and found some water in the dead ends. This was interesting enough, until Elenis shouted he had found some new PF!
We quickly gathered our force for entry and upon bailing in we found a lonely dwarf called Ira offering to "to polish your weapon iron for 1500 coins": Anot was the first to do this, and you can see the results below.

Ira's exact words were "I'm sorry, Torin, an iron weapon costs 1500c." or "Anot, do you want me to polish your weapon iron for 1500 coins?" I'm not quite sure what to make of "polish your weapon iron"; perhaps the dwarf is a little uneducated in grammar, or it's just something I don't get. Anyway, after a few people did this, we decided to clear the rubble from the north.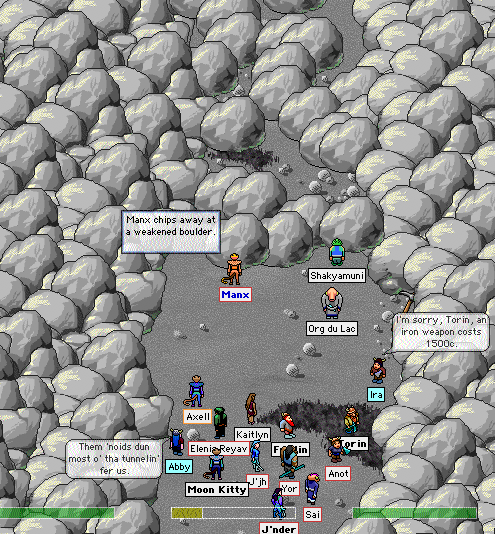 We found another PF area and all entered. That brought us out in DTN1 through a nice shortcut. We quickly cleared DTN1 again, and as a few PAG were late on we decided to head back to the seller again, plus a few others wanted to try the seller out. We ended up pooling coins in the caves.
A second trip gave everyone who wanted one an iron weapon. We then headed back to town.
Discussions surround the true use of the iron weapons. We feel it is a permanent (we hope for 1500c!) coloring of your weapon to an iron shade. We noticed no other effects when you examine the blade nor any noticeable bonuses (barring icon change in the client).

Still, even if its not a +5 weapon it was nice to find some kind of reward at the end of a difficult area; more things like this are great.
-Fundin
Posted by Para at March 23, 2007 05:10 AM