Hoggle Wins Largest Creature Contest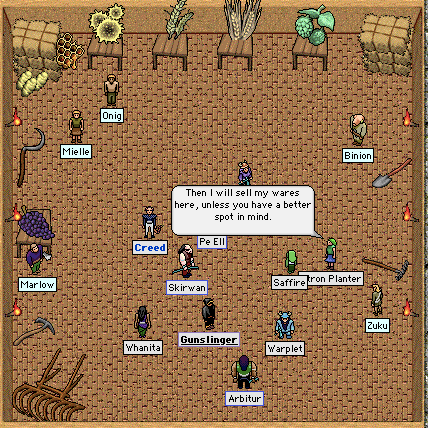 Creed sent the following report to TMN:
Stron Planter news update:
Hoggle was named the winner of the quest to bring back the largest creature to town and was sold Stron's second "rare leaf." She then revealed yet a third leaf but declined to sell it at this time, saying she needed to be sure of finding more.
She also said she was thinking of moving to town, and that she was weary of wandering all the time. She asked whether there were any good places in town to sell her wares. After several exiles showed her the Grange (aka farmer's market), Stron seemed very pleased and declared she would soon be back to set up shop.
After she left, Hoggle examined his leaf carefully and learned that it enhances a Ranger's ability to track creatures he or she has befriended. Who knows what further herbal mysteries Stron will be purveying in the future (and at what prices...)?

Cheers!
-Creed
Posted by Para at March 29, 2007 11:37 PM