Elaph Sismia and the Asklepian Staff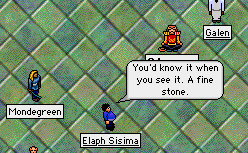 Odesseus sent the following report to TMN:
During a town incident having to do with an azurite noid and two gloaming wendies, a fellow named Elaph Sisima appeared in the Healer Hall foyer. This fellow claims to have a workshop behind the locked door in the Healer Hall.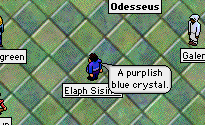 It seems he and his cohort Rady Ann have been working on crafting a new healer staff, called an Asklepian Staff, that could potentially add to the healing craft. It uses a type of crystal I've never heard of. He mentioned it would be called either "sellenet" or "solumite," and is a purplish-blue crystal. Rady apparently has been trying to craft the new crystals, but several have exploded during testing, leaving only the one on Elaph's Asklepian Staff. He claims that a fellow named Chiron may have other crystals, or perhaps we can find them. He suggests Chiron might part with one, if he has it, for about 20,000 coins.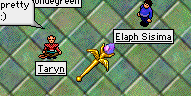 There may be a tenuous connection between the azurite noid and the gloaming wendies, as these made their appearance right after a reported moonstone disturbance. The disturbance may have occurred at the same time one of the crystals exploded in the workshop, sending shockwaves through the healer's tools and alerting the creatures to the crystal's existence.
Elaph claims the Asklepian Staff, when properly crafted and tuned, may be able to burst-heal several people at once, although he's says he not really sure it will do anything other than blow up.
Elaph says any crystals that are found should be given to him and Rady to craft. He says to contact him "leave a note on the door." I am assuming this is the locked door in Healer hall off the foyer. I don't yet know how to leave this note.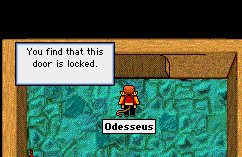 The creatures were banished, Elaph went back to his workshop, leaving a group of puzzled exiles in his wake.
-Odesseus
Fen President;
Lead Manager, Fen Emergency Management Agency;
Clan of the Rising Claw

Posted by Para at June 19, 2008 04:14 AM