Daimoth's Non-Endorsement of Largo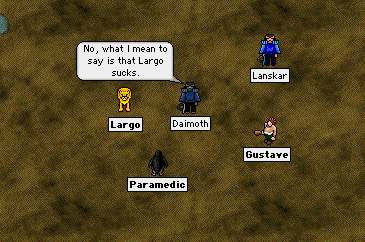 Althea exclaims, "hiya Para!"
Largo says, "Hello Paramedic."
Paramedic says, "hello"
Largo says, "Daimoth here has something important to say to you."
Largo asks, "Don't you, Daimoth?"
Daimoth says, "Yes, that I do NOT support Largo in his attempt at making more of a mockery of a mockery."
Largo says, "What he means to say is that he'd like to add his endorsement to my already strong campaign."
Daimoth says, "No, what I mean to say is that Largo sucks."
Largo says, "That's code for "is highly qualified and a brilliant leader"."
Posted by Para at November 03, 2008 08:01 PM