Largo Waves White Flag?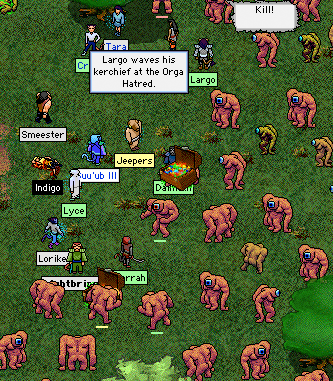 This image and description were deposited anonymously in the TMN mailbox.
The Orga, inflated by their own ranger-training efforts, began an invasion last night against Puddleby. Orga Vermine trainers were unleashed upon town, who had befriended Crypt Rats, Florese Vermine, Cerebs, and other various nasties.
After a strong rally against the vermine trainer, exiles met with heavy opposition in East Field. Numerous bolting locks held the exiles at bay for a while, but strong rodding efforts by Tara, Mephisto, Lorikeet and others proved overpowering to the Orga magic-users.
Exiles then pushed on to the Orga Camp, meeting a small pocket of resistance in the meadow. But after a stunning show of strength by the orga, Fen President Largo conceded defeat after a long battle in the OC. Exiles were unwilling to heed this flag of submission, and defeated a staggering force of Fury, Wrath, Frenzy, and Hatred.
Posted by Para at February 08, 2009 12:04 AM