Creed and Chance Report In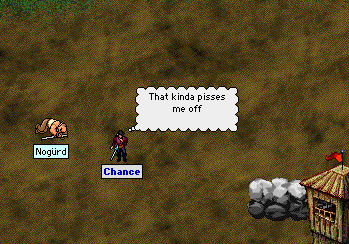 Creed sent the following report to TMN:
Hail, Para!
Chance and I felt we should let some of our fellow exiles and Clanmembers know why we have both been out of touch more than usual lately. As it happens, we have a mutual friend who is quite ill, recovering from surgery in a hospital on the farthest fringes of the Lok'groton Isles. We have both spent much time nursing and consoling our friend.
She is feeling better and hopes to be out and about again soon. In the meantime, Chance -- who worries about these things -- asked me to send you the attached sketch she made of Nogurd sleeping on the job even more blatantly than usual. I tell Chance she can't let it get to her...
Cheers,
-Creed
Posted by Para at July 05, 2009 11:21 PM