Large Sand Wurm in Town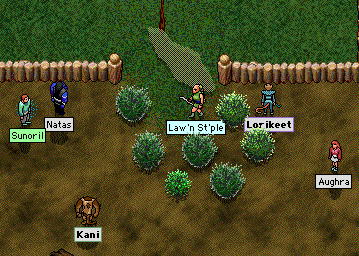 Lorikeet sent the following report on a recent Large Sand Wurm attack in town:
"First, when I came out of the library, there was a zoo in town, and Kani was explaining to some doubters that it was possible to lure an LSW to town. Shortly thereafter, he and I headed to the Savannah. We lured the LSW to town, and Natas kudzued it in the zoo. Unfortunately, the sign was in the way and the LSW couldn't figure out how to move further in. Crius was concerned about the LSW, as you can see in the second picture.

"Later we got word of three fallens in the Astral Plane, and a Greater Death on the loose. A small crew gathered, and Kani lured the GD into the Dark Temple area. Snce I was on mop up duty, I fled and didn't witness the actual death, but Aldernon was able to kill it after everyone else fell. The silly GD didn't see him until it was too late. The last picture is of the aftermath."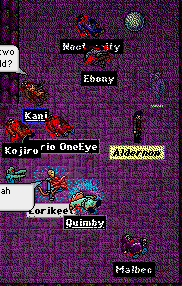 Posted by Para at
10:38 PM