Eyeball

Jo Ma'ril reports that the person behind Eyeball the Thoom passed away on December 7, 2004.
Eyeball was among the most powerful Thoom fighters in Clan Lord and was with the game from some of the earliest days. I remember him from back when I first started playing, long ago.
I hope someone will create a statue of him that can be placed in the Memorial Garden southwest of Puddleby.
I have opened a discussion thread on Clan Lord Sentinel where others can share their thoughts about Eyeball.
To find out more about Eyeball and see some pictures of him in action, please read below.
The following is a message from Eyeball's sister:
From: William Michael
Subject: BILLY'S (EYEBALL) DEATH
BILL MICHAEL PASSED AWAY ON DECEMBER 7, 2004 FROM RESPIRATORY FAILURE AND COMPLICATIONS FROM MUSCULAR DYSTROPHY. I HAVE FOUND MANY ADDRESSES ON HIS COMPUTER AND DO NOT KNOW HIS RELATIONSHIP WITH ALL OF YOU, HOWEVER I'M SURE HE WOULD LIKE ALL OF YOU TO KNOW HOW HE TREASURED FRIENDSHIPS WITH SO MANY PEOPLE. THE COMPUTER WAS HIS LIFELINE TO THE WORLD. HE IS DEEPLY MISSED BY HIS FAMILY, MYSELF HIS SISTER AND OUR PARENTS. IF THERE IS ANYTHING YOU WOULD LIKE TO SAY ABOUT HIM I WOULD LOVE TO HEAR IT, AS I AM CONSOLED BY THE MESSAGES. THEY SAY TIME HEALS ALL WOUNDS, BUT THEY DON'T TALK OF THE DEEPNESS OF THE SCAR LEFT. YOUR MESSAGE MAY HELP LESSEN MY SCAR.
SINCERELY,
BETH HOITT, BILL'S SISTER AND BEST FRIEND.
PLEASE RESPOND TO BHOITTremove@nospamCOMCAST.NET AS I WILL BE CLOSING DOWN BILLS COMPUTER SOON.
(Please remove the letters in lowercase from her e-mail address when sending a message. -Para)
I've found some images of Eyeball by searching through my archives as well as the image archives of Koric and Jo'Maril. If anyone has other, better images to display, please send them along to me and I will post them.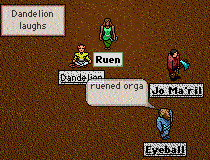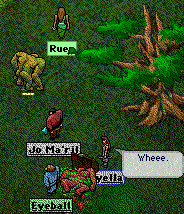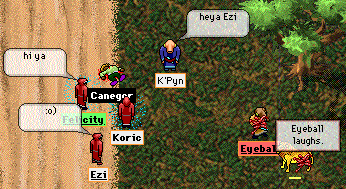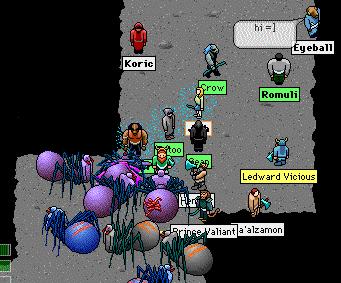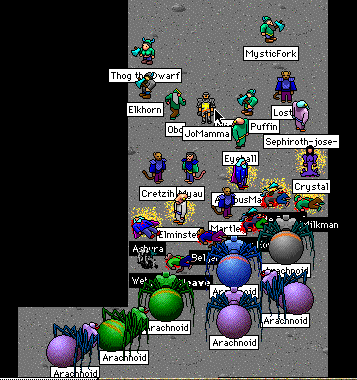 Posted by Para at
09:20 PM