Portal Problems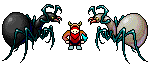 Fundin sent the following announcement to TMN:
"A small group was moving the portal back to Camp Dred and it got temporarily stuck in Pitch Cave 1. Due to the fierceness of PC1, we were unable to move it to safety. As a result, we have moved the green portal to a safe location in the kitchens. You can still exit the cloud safely, but don't enter the green portal in the kitchen. It leads to PC1 at the moment.
"My Pitch Assault Group will try to remedy this on their next trip and return the portal back to somewhere where it will be less likely to cause departs. We go in three days time, so not too long.
"For now, apologies from all who moved it. We tried something IC to help us, but that didn't work and screwed things up. We have done our best to fix it short-term until it can be fixed long-term."
Posted by Para at
06:44 PM