April 29, 2012
Recent Rift
Feodoric sent to TMN this image of a rift that opened in the Southwest Farms. He reports that it may have contained "one or more of the following: ninjas, pirates, zombies, princesses, dragons."
Does anyone else have other images or reports of this rift they would kindly submit?
Thanks
-Para
Posted by Para at
08:09 PM
Org's Bestiary: Update for New Location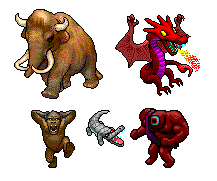 The TMN button for Org du Lac's Bestiary has been updated with the new location:
Org's Bestiary is a valuable source of information on the various creatures to be found in the lands.
Posted by Para at
11:41 AM
April 20, 2012
Chaos Storm #750

Chaos Storm #750 has swept the Lok'Groton island chain. Please post any changes you have observed and wish to share with others in the comments. If you don't want to read possible spoilers, please do not read any further!
Delta Tao's "What's New" for v750:
4/11/2012 v750
If you're going to do something wrong, at least enjoy it. — Leo Rosten (1908–1997)
* Informed sources tell us that development and testing continue on new projects.
* No crashes in 492 days and counting. The record is 723 days. (There was a planned shutdown for maintenance very early on Monday 9 April which closed the game for about an hour.)
* You'll have to explore to find the rest of this storm's changes.

Posted by Para at
08:04 AM