Chaos Storm #1076

Chaos Storm #1076 has swept the Lok'Groton island chain. Please post any changes you have observed and wish to share with others in the comments. If you don't want to read possible spoilers, please do not read any further!
Delta Tao's "What's New" for v1076:
7/11/2018 v1076
Analyzing humor is like dissecting a frog. Few people are interested and the frog dies of it. — E. B. White (1899–1985)
* Repaired some stairs in an old keep.
Posted by Para at
07:32 AM
Healer Cincture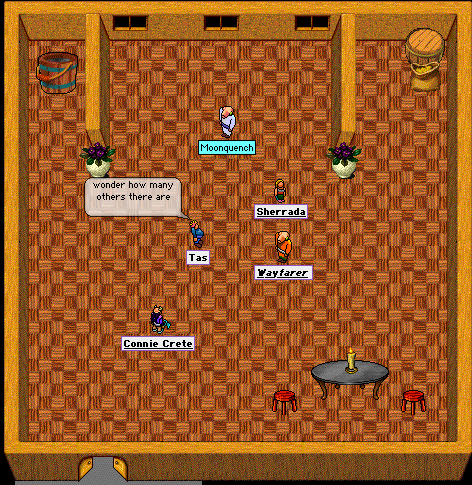 Tas Furrfoot sent the following report to TMN:
Hi Para!
Today during FB/Connie/whatever hunt, it were just Connie Crete, Sherrada, Wayfarer and myself. After we did a little "easy estuary" (that's what Connie called it); Wayfarer said we could help him *secret* stuff find. So we wandered about . . . all over the place . . . Wow! brought back some memories of places haven't seen in a while . . . and we found healer cincture! So now I have two!
Anyhow, I'm thinking there are probably a few more...
-Tas

Posted by Para at
07:25 AM