Upcoming Memorial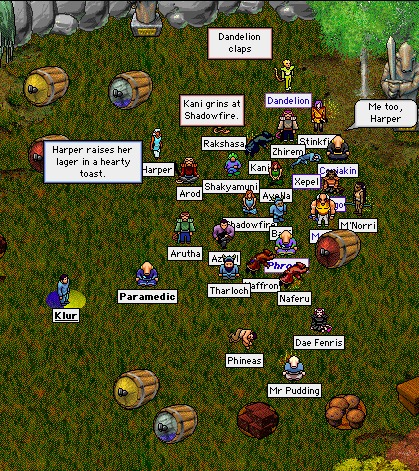 Largo sent the following announcement to TMN:
This is the 18th year since Tyndall passed away. He was loved by many in life, and is remembered both as a cherished friend and a Puddlebean legend.
Every year, we mark this time and come together in order to celebrate the lives of friends that we've lost over the years: Xenos & Panos, Baffina & Baffette, Tyndall, Tonoto, Eyeball, and K'pyn. Please join us to share memories, whiskey, cigars, beer, songs, and bonfires in the Memorial Garden outside Alliance Castle on September 27, 2023 @ 7pm Pacific / 10pm Eastern / 2am GMT.
Whether you're a constant presence, you've been in the library for a while, or you're somewhere in between, we'd really love to see you. Please also reach out to friends who might not see this message – we'd love to see them, too.
-Largo
Posted by Para at
09:48 PM
Chaos Storm #1345

Chaos Storm #1345 has swept the Lok'Groton island chain. Please post any changes you have observed and wish to share with others in the comments.
2023-09-06 v1345
Searching is half the fun: life is much more manageable when thought of as a scavenger hunt as opposed to a surprise party. — Jimmy Buffett (1946–2023)
Experimenting with bloodmage blood drop spirit amounts. Made a change which significantly reduces the bonus for collecting droplets on low health, but significantly increases the "base" amount of spirit. The result is that spirit returns will be slightly less when lower than 7% health, and a lot more when above. On average spirit gain should be a bit higher.
You'll have to explore the world to discover the rest of the changes wrought by this Chaos Storm.
Posted by Para at
10:17 PM