PAG Continues to Explore Slate Caves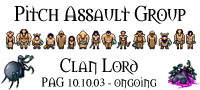 The following message may contain spoilers. If you don't want to read possible spoilers, please do not read the information below.
Fundin sent the following announcement to TMN:
New Slate Caves found!
The return of Bartok and the discovery of the Orga Stronghold some time ago attracted a lot of attention, and threatened PAG with the horror of fighting outside in the daylight. However, at about the same time, a new section of Slate Caverns also became accessible, and so PAG has been exploring these caves for the past year (OOC 4 months).
We have found 5 more chambers, aptly named SC11, 12, 13, 14 and 15, and have managed to map SC11 and 12 in detail (see http://fundin.puddleby.info/PAG_maps.html). SC13, 14 and 15 are works in progress and are proving extremely difficult to reach again after one very successful trip. All our efforts during recent trips are focused on conquering SC11 and SC12, and we continue to try different tactics here, but so far these caverns have beaten us all too often.
What have we found so far is . . . Noids and more Noids. We have seen no new species yet, but find an abundance of tough Slate Noids. We were very excited to find a Blue Spirit Potion on the floor of one of these caves, but analysis of this revealed it was made of ingredients so rare and so hard to obtain that few will ever see one, let alone use one. We have not even been able to make enough new BSP to test it properly. As yet, we have no idea if this treacherous route will take us any closer to another entrance to the Orga Stronghold (bypassing the teleport booster) or some other hidden goal such as an advanced pathfinding book. We'll keep trying and report any breakthroughs when they happen.
We are also still looking for solid and reliable exile recruits. See http://www.vagilemind.com/clanlord/viewtopic.php?t=2971

-Fundin
Posted by Para at January 22, 2007 09:05 AM