TMN Ad Art Contest Deadline Extended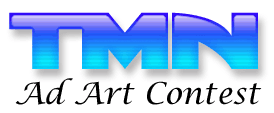 Only three exiles have entered the contest so far, even though there's 10,000 coins in prizes available. I'm going to extend the deadline to give people a little more time to work on their submissions. The new deadline is the end of the day on Sunday, May 4, 2003.
TMN is still seeking sponsors to help pay for the prizes.
The rules for the contest can be found here.
Posted by Para at
10:37 PM