Penguins Hunt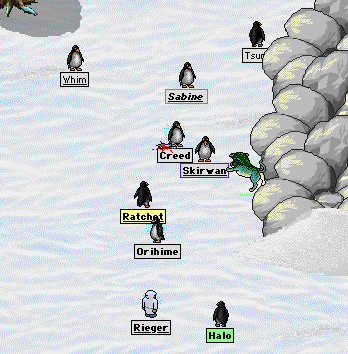 Creed sent the following report to TMN:
I thought I'd send in a report about a very fun hunt that was organized by Whim and Skirwan to celebrate Tsrrin. It was an all-penguin hunt to Cold & Snowy! Everyone involved donned penguin costumes except Rieger, who felt the need to be a little different and dressed as a snow feral instead. In the first picture, you can see the intrepid party, which turned out to consist mostly of healers, trying to vanquish an ice maha.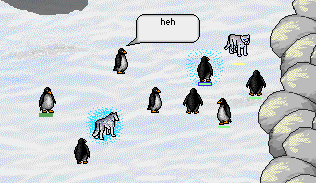 With name labels turned off, it became difficult to tell Rieger from the real snow ferals! But a good time was had by all—at first.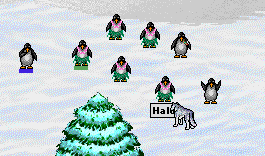 We celebrated with a few martinis and a group shot. Maybe a few too many martinis, because somehow, at the edge of the void, a strange lemminglike urge overtook us, and all of us jumped from the cloud to the Myrm Highlands, whether we had parachutes or not.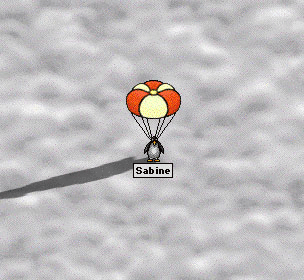 Sabine had one . . . I didn't.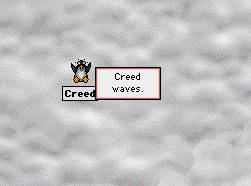 You can see the results in the last two sketches.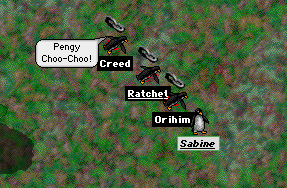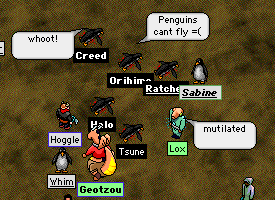 Luckily there was enough Horus in town to raise the foolish ones. It was all done in good fun, and we all had a good time, I believe. Thanks to Whim and Skirwan for inviting a bunch of us along and mostly keeping us on our feet (flippers? fins? whatever!).
Cheers,
-Creed
3rd Circle Healer
Proud Member of Clan Destine
Posted by Para at
04:33 AM