Ethereal Slugs Infest Eil'daen's Home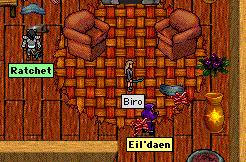 Eil'daen sent the following report to TMN:
Hi Paramedic,
The collision of the ethereal plane with our own is already having unusual effects in Puddleby, not just a rupture in the east caves.
Earlier this morning, my home was invaded by Ethereal Slugs. Fortunately, Biro and Ratchet were able to help me clear them out. I fear that if we keep using EP stones for non-emergencies, the planar collapse will only get worse.
Best regards for a safer Puddleby,
-Eil'daen
Posted by Para at
01:48 AM