Finding Trillbane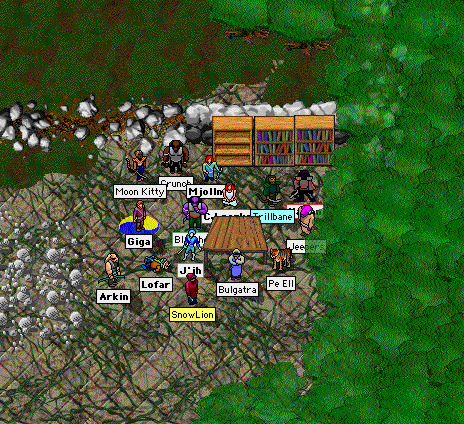 Cj Parker sent the following report to TMN:
We had a relatively a small group, which lacked fighters (for a change!). As a result, we weren't overly confident and it took 2 hours of head banging to get past the Orga Stronghold. We then made pretty quick progress through the other snells and luckily we had about five latecomers turn up to help out (so if you ever think you've missed the trip, just log on you might be able to catch up).
After taking the snell that Katpus resided in, Yor showed the fragment to Katpus, but she didn't react. Slightly disappointed by this after such a hard-won item did not achieve the desired result, we were resigned to having to find more fragments. We decided to look in 13 and see how we could get in deeper.
As it turned out, it was very hot and we decided instead to pile into the PF and map it. Luckily, as we piled through most got in. Some went through a PF that led to Dredwood, some didn't get through and got chained in 13, some backed out into 12. Myself and a few others cleared the small PF area of critters which was surprisingly easy (not much there) and then got everyone else from 12 who was fallen and formed up a group again. We moved back through the PF in 13 and then tried the 3 or 4 PF paths that we saw.
One we didn't take as it went to Dredwood, two other paths we could barely see, and one path with much staring no-one could open until Meph tried and opened it. The shout came up that Trillbane was there, and we all piled in.
Multiple people trained and then we all headed out and suicided in 13 trying to get some more parchments; it was just hard to rod with half the team dead.
-Cj Parker
Posted by Para at
07:16 AM