Clan Destine Members Gather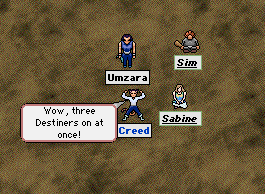 Creed sent the following report to TMN:
Hail, Para!
I'm excited to be able to offer a couple of sketches of an event that doesn't happen much anymore: a meeting of THREE Clan Destine members, all out of the library at once!
Sabine, Sim, and I were all excited to see each other, and we even did a little healing support together for a brief hunt. And as you can see, Sim had some wry commentary to offer . . . hey, Destine fighters! You been called out! Snap!
Cheers,
-Creed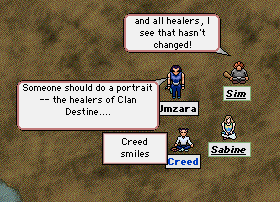 Posted by Para at
10:09 PM