Ethereal Invasion to the East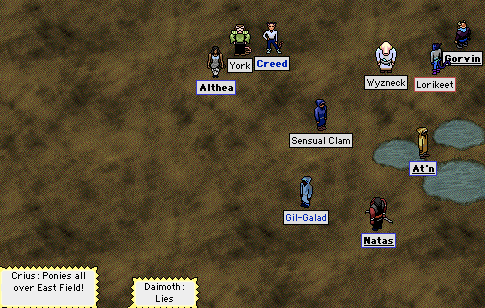 Creed sent the following report to TMN:
Creed, your roving reporter, here with some images from the ethereal invasion that was still going on, even as I sketched!
For many puddlehours, now, parts of the marsh, east field and east farms have been filled off and on with hordes of marauding etheral creatures.
It all started with a Greater Death and a few ethereal slugs in TC. A number of strong fighters were out and about, and with the help of mystics and healers, they vanquished the GD. Then Crius began to shout that ethereal creatures were invading east field. Most of the strong fighters declined to scout eastward, declaring that Crius was lying and/or leading us into an ambush.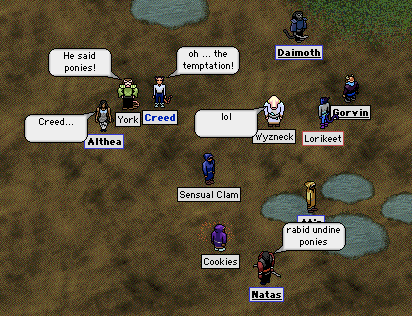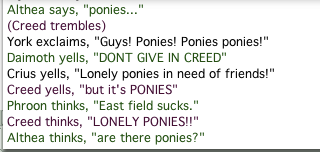 The lure of ponies proved too strong for me to resist, and I did decide to peer eastward, followed by the brave Althea, York, Cookies, and a few other fighters, healers and mystics. As you can see by my sketches, the thoom Romanus deserted his post early on—before the threat even became serious!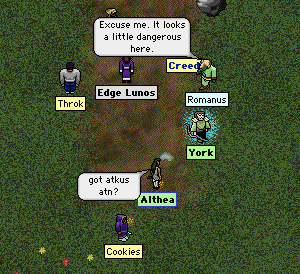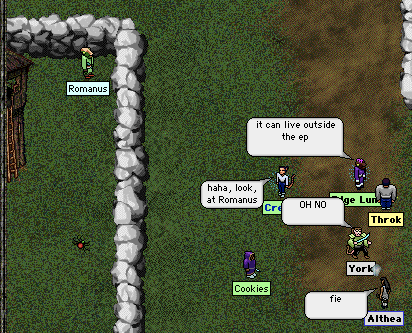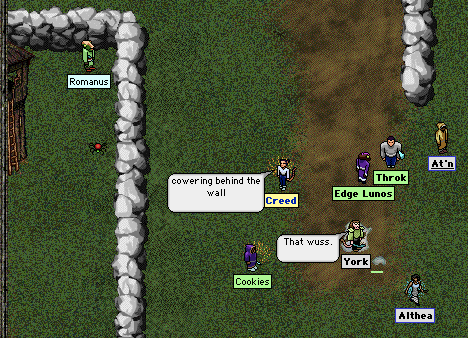 For many hours, this small brave group did our best to defend Puddleby's eastern borders. Again and again, the ethereal army encroached on our gates, but the small group self-titled the B-Team kept pushing them back, keeping them mostly confined to East Field and keeping the East Farms mostly clear. It was inspiring to see mystics At'n and Asenath swinging their blades and helping with the battle! Finally, though, the ethereal creatures became too strong and our group was tiring. Many of us fell, and the situation looked hopeless.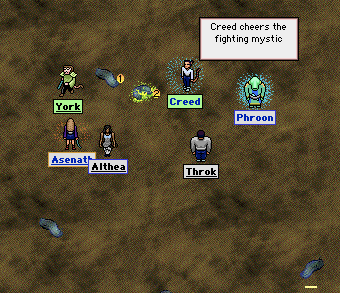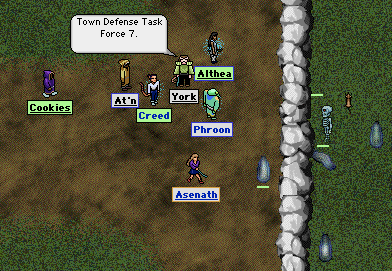 We were reinforced just in time by the arrival of the doughty members of Falinea's Blade, who swept in, rescued and raised many fallens and joined the fight.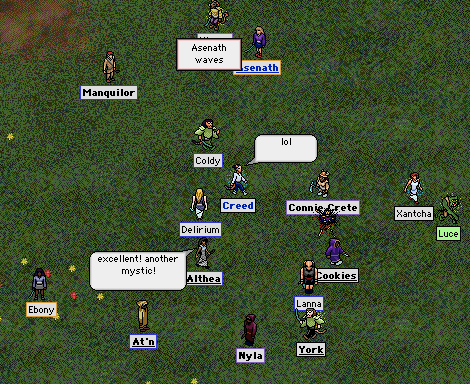 The arrival of so many reinforcements raised everyone's spirits to the point where Althea could joke about the fashion downside of being repeatedly "slimed" by dense ethereal spume.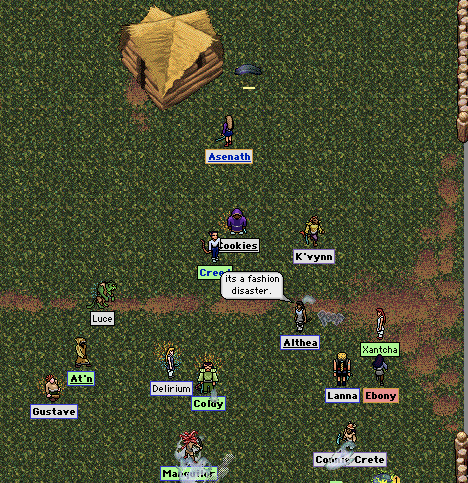 Once most of the fallens were raised, I had to head for the library for a rest after so many hours of healing. From what I understand, the struggle continued on with varying degrees of intensity. But I just want to salute the small group who worked so hard and so tirelessly early in the invasion for the safety of all Puddleby!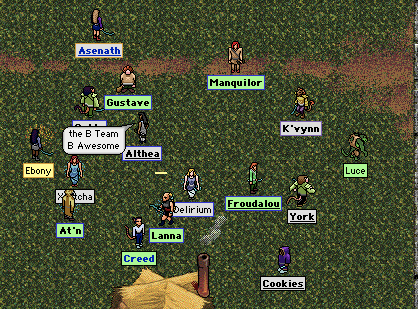 [Editor's Note: Does anyone have an update on this story? -Para]
Femme Destine!!
-Creed
Posted by Para at
09:15 PM