December 12, 2013
Chaos Storm #837

Chaos Storm #837 has swept the Lok'Groton island chain. Please post any changes you have observed and wish to share with others in the comments. If you don't want to read possible spoilers, please do not read any further!
Delta Tao's "What's New" for v837:
12/11/2013 v837
Advice is like snow; the softer it falls, the longer it dwells upon, and the deeper it sinks into, the mind. — Samuel Taylor Coleridge (1772–1834)
* No reportable news to report.
* We are considering dropping support for Mac OS X 10.4 "Tiger" in the Mac client, because it's getting ever harder to maintain the elderly development systems required to build that version. Also on the horizon — though not yet imminent — is the day when we have to stop building for PowerPC-based machines. We have no set schedule for these changes: our in-house mystics are not so good at that kind of detailed prognostication. But we did want to provide fair warning.

Posted by Para at
07:46 PM
December 08, 2013
Whirl Wind and Harper Discover the Ensconcement Village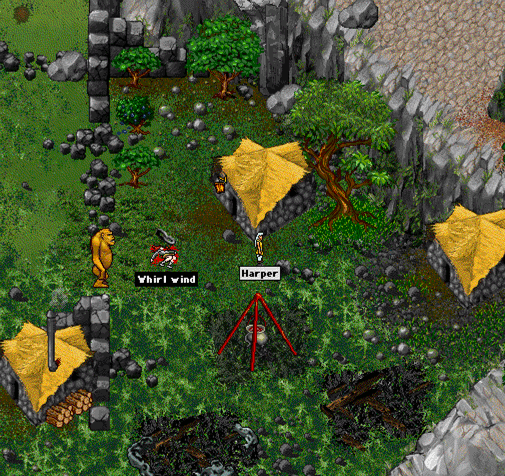 Harper sent the following report to TMN:
Gradi, the 33rd Day of Winter 594, at 7:58 AM
(December 3, 2013)
Whirl Wind, Coldy, and I had encountered the mysterious Windspinner Forsythia on the 86th day of Autumn 593 in the region north of the Bison Plains that she called the Ensconcement.
When we first met Forsythia Windspinner, she said "The warriors from Puddleby who traveled near our village simply called it "Over the Bridge. I expected them to stop by for tea, but they did not seem to see our huts beyond the trees."
Armed with that knowledge, Whirl wind managed to pinpoint the location of the Village by relentless scrying, jumping from Cloud, falling and departing (218 departs Whirl … Really?! :-p).
Sadly, the beasts of the Ensconcement drove the valiant explorers back, denying them access to the village, and finally, sadly, decimating their ranks until they were forced to depart.
Unwilling to give up, the Journeyman Mystic Whirl wind, weak of limb but brave of heart (and just a little bit reckless of mind), trekked back to the Cloud Control Room, where she sat for hours (and hours and hours) monitoring Cloud's passage over the lands. Having nothing better to do, Harper came along to keep her company, and to heal her if the roof caved in again.
Suddenly Whirl wind gasped. Cloud was over the snell that she and Feodoric had identified as belonging to the village where Forsythia now dwelt.
There was nothing else we could do, we jumped from Cloud! How could we not? As before, the fall from Cloud did not cause us injury. But the huge Tawny Yorilla did. It felled the valiant fragile Whirl Wind with a single blow. I ran for the nearest hut and made it there safely.
I was able to rescue Whirl wind and heal her, and together we explored the fascinating village and listened to more tales from Forsythia, but also the stories of the other fascinating villagers. We will not repeat them here. There are surprises there for those who love ancient lore and we will not spoil them for you. But one hint, if you go there, bring a keg of beer, a cask of ale, or other stout for the villagers. (See image above.)
Since our discovery on the 33rd Day of Winter 594, further exploration of this village has been made possible only through the talents and efforts of Feodoric, Drablak, Stinkfist, Coldy, Elenis Reyav, Osito, Thoomilicious, Noivad, Daimoth, Maximus, Alana, and Theoden. Intrepid adventurers all, we thank them for embracing a new form of exploration. As a result of Whirl's innovative work that was inspired by and built upon Drablak's exceptional pioneering contributions in the creation of a Cloud Atlas, Whirl wind was awarded the title of Sky Mystic by the Pirate King and, apparently also, by the gods. /info her when you get the chance. (See image below.)
We have just begun to explore.
Respectfully Submitted
-Professor Harper McCloud
University of Puddleby

Posted by Para at
02:05 PM
Encounter with Forsythia Windspinner: Mysteries Abound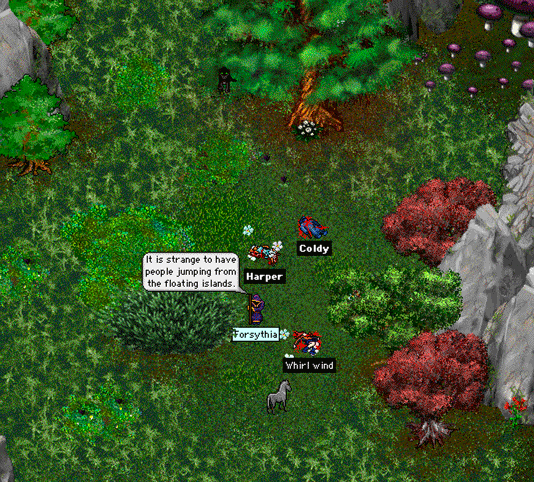 Harper sent the following report to TMN:
Soldi, the 86th Day of Autumn 593
Journeyman Mystic Whirlwind, Coldy, and I leaped from Cloud into the new territory north of the Bison planes. Miraculously, none of us, including the Mystic were injured at all from the jump. However, we were immediately beset by a host of vicious powerful creatures, and even Coldy's shieldstone could not prevail for long against their treacherous assault. We all fell.
But just when we despaired of any new discoveries, just when we were ready to depart, suddenly a mysterious cloaked figure walked into the snell and honored us with a visit. The exquisitely courteous being even brought Whirl wind, who had fallen away from our sight, to us, so that we might all converse together. The lady said that her name was Forsythia and that she was a Windspinner. "We study what has been left behind," Forsythia says, "And attempt to understand the tragedies of recent past."
Forsythia told us many amazing stories. She had seen other constructed Clouds, like the one we access from mirror!
Whirl wind asks, "There are other Clouds?"
Forsythia says, "As you call them, yes."
Forsythia says, "Of a similar construction."
The Windspinner mused sadly about the people who live in the Snowy Village of the Eastern Mountains, who are aging because their altar has been damaged. Could the people of the Snowy Village be the Clans of the East that the Marsh Hermit claims is dying? Forsythia spoke of the altar that used to be beneath the Snowy Village. Forsythia says, "Something terrible befell it. I cannot recall what."
Forsythia says, "We had only one altar in these mountains. We cannot visit it any more."
Whirl wind asks, "Was it destroyed?"
Forsythia says, "Not destroyed, but damaged, or corrupted. I do not know."
Forsythia says, "Those in the mountains are no longer ageless."
Forsythia says, "Death comes. Not just from beasts, but from age."
Forsythia says, "We've heard the noise of fell beasts taken up occupancy there. And the way is blocked, besides."
Forsythia says, "We would have to reclaim it."
Forsythia says, "We are few, now..."
Forsythia also told us a fascinating and sobering tale about creatures that we had never heard of, called the Orgs. These people, for their powers are too great, and too unusual, to call them beasts, were the honorable ancestors of today's Orgas. But the Orgas now seek to utterly destroy the Orgs! In fact, the Orgs are all but extinct and live only in a few snells north of the Bison Plains. Now that Exiles have built a bridge into the protected areas called the Ensconcement, Forsythia begged us to treasure the Orgs and to help her defend them against the onslaught of the Orgas who will surely follow.
"The warriors from Puddleby who traveled near our village simply called it "Over the Bridge."Forsythia says, "I expected them to stop by for tea, but they did not seem to see our huts beyond the trees."
Forsythia also invited us to her village, which she said that the intrepid explorers of Puddleby had missed, as it was hidden in the trees. However, with some excellent scrying by Whirl wind and Feodoric, we managed to triangulate on its location. Late one night, when few were around, Whirl wind and I jumped from cloud into the village … but that, friends, is another story.
Sadly, Forsythia could not heal us, so when she left, we had to depart. But we heard through the wind that we gained experience for our recklessness.
Other things were told as well, but those are of Mystic things, and I will honor their secrets.
Respectfully submitted,
-Professor Harper McCloud
University of Puddleby
Posted by Para at
01:49 PM