Chaos Storm #846

Chaos Storm #846 has swept the Lok'Groton island chain. Please post any changes you have observed and wish to share with others in the comments. If you don't want to read possible spoilers, please do not read any further!
Delta Tao's "What's New" for v846:
2/12/2014 v846
Never sign a Valentine with your own name. — Charles Dickens (1812–1870)
* We fixed a bunch of fairly minor bugs. With any luck, we also didn't introduce any new ones!
* In particular, a glitch had improperly prevented many folks from attempting Rakhee's reedcat-hunting challenge. That challenge (and its rewards) have now been re-opened to everyone — even those who had already completed it may try again.
* The date-conversion NPCs in the Fairgrounds have had their clocks cleaned, so to speak. The year 2014 is now within the range of their calendars (as indeed are years 2015–2037).

Posted by Para at
11:08 PM
Bard Audition: Silphene and Borzon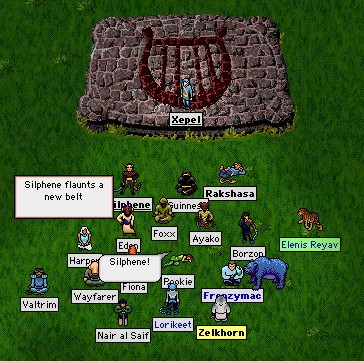 Rakshasa sent the following report to TMN:
Hail Para,
The results of the Bard Audition are in! Congratulations to Silphene for making Full Bard status and Borzon for earning his Bard Quester status! Both auditionees wowed the bards in attendance, and a concert was held afterwards to celebrate the occasion.
Feel free to contact Rakshasa in the lands or visit the Bard's Guild scrolls on the Sentinel for more information on Bards or to request a Bard Audition!
-Rakshasa, Bard Master
Posted by Para at
11:37 PM