The "Orga Ire"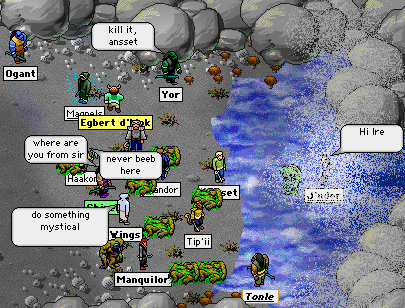 Ansset sent the following report to TMN:
This is a follow-up report on the orga infestation of the eastern areas from town, which Sativa reported for the 85th day of Summer. We thought we could sense the leader of this new tribe, but we could not reach him. Today, just four days later, during the early morning on the 89th day of the season, drums were once again heard to the east.
Sure enough, with a quick investigation (which left me fallen for a number of hours), many dangerous orga had once again taken hold of the dark east forest near the southern wendecka passes. After some hours of fierce and often-tiring combat, the relatively small but persistent team cleared the orga to the slime cave.
It was here that the orga "ire", as many had taken to calling this orga, had his (her?) last stand. We first tried to communicate with this mysterious figure, though he did not respond well, even when J'nder gave him a back massage to try and soothe his tensions about being faced with so many unknowns. The orga summoned a number of minions to attack us, though not enough to be truly effective. It was then that he revealed some of his other powers; he transformed into an orga wrath, and then into a lightning-shooting shaman. This display of power seemed to have made he weak; he was quickly dispatched by eager fighters at this point.
With that being done, the offending orga were seemingly completely eradicated from the area.
Another important note: during this encounter with this orga leader, I received strong and definite sensations from the waterfall behind the 'ire'. The emanating power from behind the waterfall made it distinctly clear that there is a path of the orga hidden there. I could unfortunately not determine what sort of path that may be; but as of yet, no one has seen or been able to open it.
-Ansset
Posted by Para at
03:59 AM