iClan v1.2

Skirwan's clanning-information application iClan has been updated to version 1.2. Read below for more information on the changes.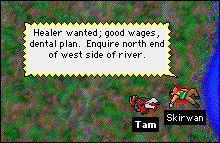 Skirwan's report on 1.2:
1.2
* iClan is now a Universal Binary. I think. My MacBook hasn't arrived yet, so I'm sorta guessing here.
* Ever since iClan 1.0 the first character (in alphabetical order) hasn't been displaying in iClan. It's fixed. Sorry Afrit.
* iClan now has a clock displaying the current time in Puddleby. The clock corrects itself based on Crius's announcements in the data feed, but it still won't perfectly agree with the game because Delta Tao's server's internal clock is off by about a minute.
* The icons for Mystics and Journeyman Mystics have been corrected.
* The iClan window now 'sticks' to the corners of the screen. It's tough to explain, but you'll recognize and appreciate it pretty quickly
* It should now be absolutely impossible to get the iClan window stuck in the collapsed state. I think. Let me know if you do!
* The about box is slightly more colorful now.
* Noivad rocks. But I think we all knew that already.
* iClan will no longer crash when the data feed vanishes. Of course, it'll still fail to do anything useful.
* Various nearly-invisible optimizations and improvements that you probably wouldn't care about.

Posted by Para at
12:50 PM