Ethereal Portal in South Forest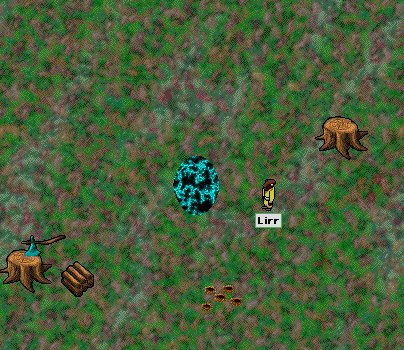 Lirr sent the following report to TMN:
Paramedic!
Your long lost journalist has a new report.
Today, or rather this night, Fordi, the 59th day of Winter in the 570th year of the Ascendancy (OOC 2008-02-28), I discovered an Ethereal Portal close to Puddleby. It's located in the South Forest, just one sne'll south of the southern east farms.
Several exiles experimented with it, and Darkmos was even able to enter it and survive long enough to take a portal back into the South Forest. Gremlins was the first exile to come help me investigate the portal and after a while Darkmos, Raymond Shifter, and Starsword Eojek joined the curious crowd. At one point ethereal critters started to leak out, but as far as I know, only slugs made it. They made it very uncomfortable for me.
I include a sketch of the portal.
-Lirr of Singdeep
Posted by Para at
08:59 PM